Street Photography: The Assignment
Day workshop | 1 day | 10.30 - 16.30 | 10 places | £159
Course date
Price
Tutor
Book
Call the office for upcoming dates
I would like to buy this as a gift
Buy Now
Call the office for upcoming dates
Please
email us
if you would like to register your interest for future dates, or if you would like to be added to a waiting list for a full course.
Course Description
Do you want to find that signature style that you can put your stamp on and be proud to share with the world? Our brand new one day assignment course builds on the foundations of Street Photography and will transport you to a higher and more advanced level.

Delivered over a day, the focus of this course is shooting an assignment and working to a brief.
In the classroom, participants will receive in-depth advice on camera settings such as zone focusing, an introduction to Lightroom for editing and options for gaining recognition and on self publishing.
Outdoors, participants will be working on a photo-series, rather than single images in order to create a more coherent body of work. Focus will also be on improving your street photography through different viewpoints, lighting, and selecting backgrounds.
Whether you're looking to develop your knowledge and skills, or are keen to discover creative ways to respond to photographic briefs, this is an ideal course.
For further information or to book over the phone, please call us at the office on 020 7729 1936.
Course Content:
In-depth camera settings
Zone focusing
Use of flash
Picking a background
Timing
Shooting from the hip
Differing viewpoints and lighting
Working on a theme
Shapes, patterns, geometry, colour
Producing a coherent body of work
Tips & tricks in Lightroom
Black & whites conversions
Enhancing colour
Getting your work out there
Developing a style
How to gain recognition using social media
Self-publishing
Requirements: Prior beginner level knowledge of Street Photography. Digital SLR Camera / Bridge Camera / Compact


Don't have your own DSLR camera?
If you don't have your own Digital SLR camera then there's no need to worry. You can hire one of ours for £15 per day. Send us an email for more details - info@photographycourselondon.com
Please note our classroom is on the first floor with no lift. If you are less-abled or have any concerns please contact the office.
All our courses are available as personalised gift certificates. You can choose from an open dated voucher or ask for a specific value to be used towards a course or one to one tuition.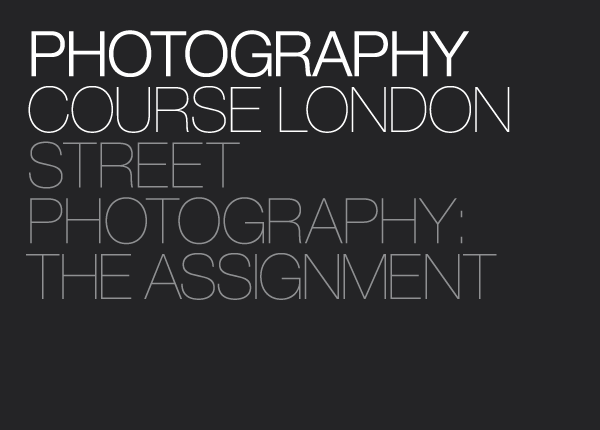 'Ethusiastic knowledgeable tutor. Eye opening walk around east London with plenty of things to snap. Opened up a whole new method of photography to me.'
★★★★★ Richard Kenny
'Great tutor, really responsive and engaging and provided good and practical advice. We covered some of the history around sreet photography and also hit the streets with Luke giving a broad range of advice for different "styles" of photography.'
★★★★★ Lorenzo Play
'Really enjoyed the course, good to have most of the day to learn about street photography. Great to go out and put into practice things learnt in the morning and to have a review and to see how other members of the group viewed similar shots or came up with unique images.'
★★★★★ Daryl Seyforth
'The course was great fun and well-balanced. The tutor was a very helpful and easy to approach teacher who encouraged us to believe in our ability to take photographs and never forget to smile when taking pictures out there in the streets as smiling photographers get far in the world of street photography!'
★★★★★ Dagmar Gleditzsch
'I really enjoyed the Street Photography course. We spent the morning in the 'classroom' learning about street photography, before heading out to see what we could 'see'. Overall, I learnt some great tips and techniques, the group were really friendly and the guidance was really valuable.'
★★★★★ Julie Woodward
'The Street photography course was excellent. I really enjoyed the introduction putting street photography in a historical context but the wow factor was going out on the streets. It really made me start to look at things in a different way and approach composition differently, particularly use of available light.'
★★★★★ Barbara Evans