Street Photography
Day workshop | 1 day | 10.30 - 16.30 | 10 places | £159
Course date
Price
Tutor
Book
Call the office for upcoming dates
I would like to buy this as a gift
Buy Now
Call the office for upcoming dates
Please
email us
if you would like to register your interest for future dates, or if you would like to be added to a waiting list for a full course.
Course Description
This one day course is suitable for all levels of photographer from complete beginner to advanced and aims to introduce the practice of Street Photography. It is concerned with improving the personal work that all participants are making and increasing the chances of a successful hunt.

In the classroom, the group will talk about optimum camera set ups, how to interact with subjects and legal rights. Participants will look at the work of the masters of street photography and discuss how they got their shots and what lead them to such brilliant subjects. Also covered is looking at how street photographers have reflected their times and reinvigorated its limits so that each participant can too.
More than any other approach street photography allows the opportunity to develop the eye so there will be a substantial practical session followed by a critique of work produced and suggestions for how to keep progressing and improving and ways to iron out problems experienced.
The focus of this course is not on technical ability but on developing the creative side of your photography.
For further information or to book over the phone, please call us at the office on 020 7729 1936.
Course Content:
In the office:
Street photography as an expression of your personality: A look at the masters
Camera setups and lenses
How to act in the street and what your legal rights are
Methods to discover and hone your instincts


In the street:
What do street photographers see that others don't
How to shoot people without feeling intimidated
Practical advice as you shoot
The where and when of street photography


Back in the office:
Review of participants' photographs from the day with guidance on how to improve and where to go to keep getting your pictures
Requirements: Digital SLR Camera / Bridge Camera / Compact


Don't have your own DSLR camera?
If you don't have your own Digital SLR camera then there's no need to worry. You can hire one of ours for £15 per day. Send us an email for more details - info@photographycourselondon.com
Please note our classroom is on the first floor with no lift. If you are less-abled or have any concerns please contact the office.
Get 20% OFF Street Photography: The Assignment
Street Photography: The Assignment is the perfect follow up to our beginner Street Photography course. We're offering an amazing 20% OFF 'The Assignment' if purchased together with Street Photography. Choose a specific date or opt for an open-dated voucher. * What is covered on 'The Assignment'?
*Please note this offer doesn't run in conjunction with other discounts
Can't find the date you're looking for? - One to One
We also provide One to One tuition in Street Photography.
The content is decided by you and delivered at a pace to suit your level and prior knowledge.
Book some One to One tuition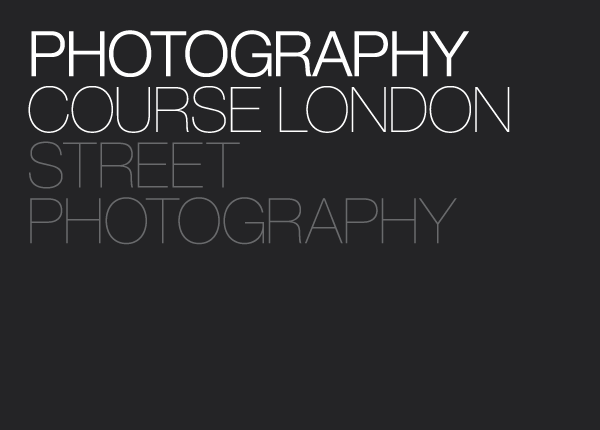 Read more reviews
'The course was great fun and well-balanced. The tutor was a very helpful and easy to approach teacher who encouraged us to believe in our ability to take photographs and never forget to smile when taking pictures out there in the streets as smiling photographers get far in the world of street photography!'
★★★★★ Dagmar Gleditzsch
'The Street photography course was excellent. I really enjoyed the introduction putting street photography in a historical context but the wow factor was going out on the streets. It really made me start to look at things in a different way and approach composition differently, particularly use of available light.'
★★★★★ Barbara Evans
'Ethusiastic knowledgeable tutor. Eye opening walk around east London with plenty of things to snap. Opened up a whole new method of photography to me.'
★★★★★ Richard Kenny
'Really enjoyed the course, good to have most of the day to learn about street photography. Great to go out and put into practice things learnt in the morning and to have a review and to see how other members of the group viewed similar shots or came up with unique images.'
★★★★★ Daryl Seyforth
'I really enjoyed the Street Photography course. We spent the morning in the 'classroom' learning about street photography, before heading out to see what we could 'see'. Overall, I learnt some great tips and techniques, the group were really friendly and the guidance was really valuable.'
★★★★★ Julie Woodward
'Great tutor, really responsive and engaging and provided good and practical advice. We covered some of the history around sreet photography and also hit the streets with Luke giving a broad range of advice for different "styles" of photography.'
★★★★★ Lorenzo Play