Retouching for Fashion and Beauty
Day course | 1 day | 10.30 - 16.30 | 6 places | £179
Evening course | 3 weeks | 18.30 - 21.30 | 6 places | £239
Please
email us
if you would like to register your interest for future dates, or if you would like to be added to a waiting list for a full course.
Course description
Fashion and Beauty Retouching is an area that requires technical skill, but also has scope for adding your own creative flare. The course will teach you step by step the processes used within the fashion and beauty industry, from organizing and structuring a workflow to thinking about the overall look of the image and the final creative touches.
Beginning with initial considerations such as cleaning up the image, and restructuring areas. We will go through the processes of colour correcting skin, and altering the lighting on the skin. Many of these processes will be built on core techniques such as using global adjustment layers in combination with masking, and you will learn how to apply them differently for each task, making informed decisions about the effect it will produce, and what is required to fulfill a brief.
You will be able to get creative with applying make up, and making enhancements such as brightening eyes, and sculpting brows. Skin softening using a high pass filter is also one of the final considerations. The most fun is often to be had at the end, bringing the image together with final colour changes, changing a background and applying filters to the whole image.
For further information or to book over the phone, please call us at the office on 020 7729 1936.
Course Content
Techniques used
Masking
Adjustment layers
Selective colour adjustment
Selections
Layer blending modes
Dodge and Burn
Basic cleanup and restructuring
Background cleanup
blemish removal
Hair tidy
Colour correction and removing skin redness
Liquefying and restructuring
Make up and skin
Applying colour to skin
Adding highlights
Contouring with curves
Increasing eye lashes
Brightening eyes and teeth
Changing eye colour
Skin softening using a high pass filter
Getting creative
Changing the background
Changing the overall lighting
Creative colouring
Requirements
Laptop with Adobe Photoshop and Bridge installed (version CC / CS6 / CS5 / CS4)
Required Photoshop Skills
Prior to taking this course, you are also required to have the following Photoshop skills:
Using the selection tools
Creating new layers. Using selections to create layers, and cutting out from selections
Familiarity with the layers panel (turning layers on and off and shuffling them up and down)
Making image adjustments using levels, curves and hue/saturation
Using the crop tool
Changing the image size and the canvas size
Making transformations
Saving files and an understanding of different file formats
If you are not up to this level we recommend you take our Photoshop Foundation – Level 2 course first, or for £239 you can get the Retouching for Fashion and Beauty course plus a one hour refresher session. (£299 if an evening course) For further guidance, please call the office on 020 7729 1936.
Don't have your own laptop?
If you don't have your own laptop then there's no need to worry. You can hire one of our Mac laptops for £25 per day. Send us an email for more details - info@photographycourselondon.com
Please note our classroom is on the first floor with no lift. If you are less-abled or have any concerns please contact the office.
Can't find the date you're looking for? - One to One
We also provide One to One tuition in High-End Retouching.
The content is decided by you and delivered at a pace to suit your level and prior knowledge.
Book some One to One tuition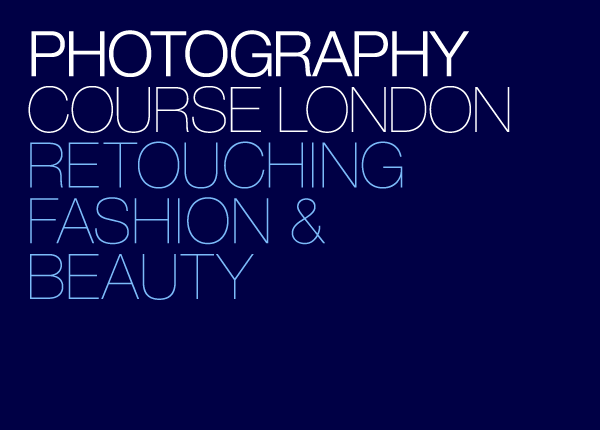 Read more reviews
'I have now attended 2 courses at photography course London and am planning to take some 1 to 1 on some more specific things as they are so good! Retouching for beauty and fashion – we covered lots of effective techniques and I am no longer afraid of masks!! The teaching was straightforward and made complete sense, she was patient and kept us stimulated throughout…'
★★★★★ Holly Revell
'Overall I was very happy with the course. The tutor and staff at the office were very friendly and there were a few cheeky ginger nuts so all in all it was great. I had a lot of fun and learnt lots of new skills and techniques.'
★★★★ Annie Hawkes