Retoucher Pro
Day course | 5 days | 10.00 - 14.00 | 6 places | £699

Course date
Price
Tutor
Book
Call the office for upcoming dates
I would like to buy this as a gift
Buy Now
Call the office for upcoming dates
Please
email us
if you would like to register your interest for future dates, or if you would like to be added to a waiting list for a full course.
Payment plans are available for this course, please contact the office for further details.
Course description
This course is aimed at budding professional retouchers and photographers / assistants looking to do their own high-end retouching. The course covers all the techniques required to achieve flawless, luminous skin, as well as giving you total control over every single pixel in your files.Our Retoucher Pro course is dealing primarily with high end fashion, beauty, portrait and advertising retouching, you will learn to achieve the highest level of fine details in your images, as well as both the colour and luminosity balance, resulting in an exceptionally finished final image.For further information or to book over the phone, please call us at the office on 020 7729 1936.
Course Content
Areas
RAW Processing
Portrait / Fashion / Beauty retouching
Colour Grading
Compositing
Extra Tips
Topics
Processing RAW files
Creating profiles with DNG Profile Editor
Masking
Reshaping with liquify
Frequency separation
Digital make up
Dodge & Burn
Recreating textures
Matching skin tones and evening colour
Painting missing / corrupted areas from scratch
Retouching metallic / reflective surfaces
Removing unwanted reflections
Creating light lines
Sharpening methods
Creative colouring
Complementary colours
CFine tuning the palette
Emulating signature looks
Cinematic colour grading
Developing a distinct look
Black and White conversion methods
Compositing principles
Changing backgrounds
Blurring techniques
Creating shadows
Creating artificial light bursts
Removing moiré
Delivering finals
Profile conversion
File formats
Image sizes
Mood boards
Requirements
Laptop
Tablet
DNG Profile Editor
Adobe Photoshop (version CC or CS6)
Adobe Bridge
Requirements: Laptop with Adobe Photoshop (version CC / CS6) installed. A good all round understanding of Photoshop, or equivalent knowledge of our Level 1 and Level 2 Photoshop courses. If you're not sure of your level, please contact the office.
As this is a longer course, we ask students to
please keep an additional week free
after the final session date. This is to allow for flexibility in the unlikely event of tutor illness during the course.
Don't have your own laptop?
If you don't have your own laptop then there's no need to worry. You can hire one of our Mac laptops for the course. Send us an email for more details - info@photographycourselondon.comPlease note our classroom is on the first floor with no lift. If you are less-abled or have any concerns please contact the office.
Can't find the date you're looking for? - One to One
We also provide
One to One tuition
in Photoshop. The content is decided by you and delivered at a pace to suit your level and prior knowledge.
Book some One to One tuition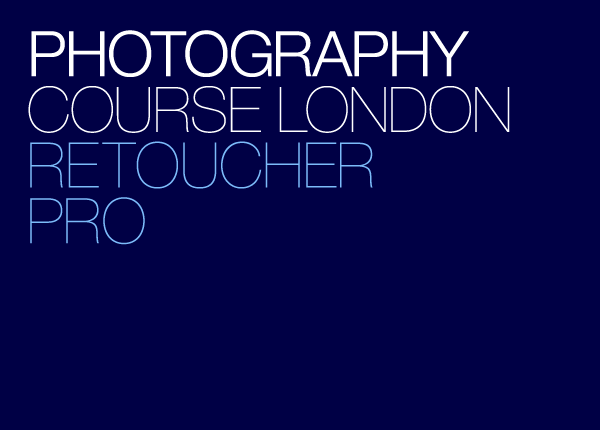 Read more reviews
'The Retouch Course Pro was amazing. Sinisa is a great teacher and the course was exactly what I was looking for. It seemed expensive but it was so worth it. I learned loads. Also the organisation and location is fab.'
★★★★ Jo-Anna Rohmann
'I have now attended 2 courses at photography course London and am planning to take some 1 to 1 on some more specific things as they are so good! Retouching for beauty and fashion – we covered lots of effective techniques and I am no longer afraid of masks!! The teaching was straightforward and made complete sense, she was patient and kept us stimulated throughout…'
★★★★ Holly Revell