Portraiture Masterclass Day workshop
Day workshop | 1 day | 10.30 – 16.30 | 6 places | £199
Course date
Price
Tutor
Book
Call the office for upcoming dates
I would like to buy this as a gift
Buy Now
Call the office for upcoming dates
Please
email us
if you would like to register your interest for future dates, or if you would like to be added to a waiting list for a full course.
Course Description
This course is aimed at people who have a decent comprehension of the technical elements of photography and want to look deeper into the ideas and techniques behind great portraits.
This course will allow you to get the very best from your portrait photography creatively, emotionally and technically.
Taking place over a full day in a classroom environment students will experience both theory and practical assignments as we study the work of the greats of portrait photography from Julia Margaret Cameron through Richard Avedon, Annie Leibovitz to Nadav Kander and David Lachapelle.
We will also look at what is a portrait lens, composition and atmosphere. We will then practice the techniques and ideas we have learned and end up attempting to recreate one of the images we have studied.
The focus on this course is on creativity, but does include some technical elements and a good technical knowledge and understanding of your camera is required.
For further information or to book over the phone, please call us at the office on 020 7729 1936.

Course Content:
The Big Question – What do we want to capture through a portrait and what will we inevitably achieve?
A study of the greats – We look at the work of some of the great portrait photographers and dissect their images.
How to compose a Portrait
We look at how to use natural light for portraits through images and practical exercises
We will use a simple one light studio flash portrait set up
Kit – What is a portrait lens?
How to interact with your subject for the best results.
A practical session where we try and recreate a portrait from one of our chosen greats.
Requirements: Digital SLR Camera or Bridge Camera with fully manual controls.
Participants attending this course must have a competent knowledge of their camera and understand the basics of exposure.
Don't have your own DSLR camera?
If you don't have your own Digital SLR camera then there's no need to worry. You can hire one of ours for £15 per day. Send us an email for more details - info@photographycourselondon.com
Please note our classroom is on the first floor with no lift. If you are less-abled or have any concerns please contact the office.
Can't find the date you're looking for? - One to One
We also provide One to One tuition in Portraiture.
The content is decided by you and delivered at a pace to suit your level and prior knowledge.
Book some One to One tuition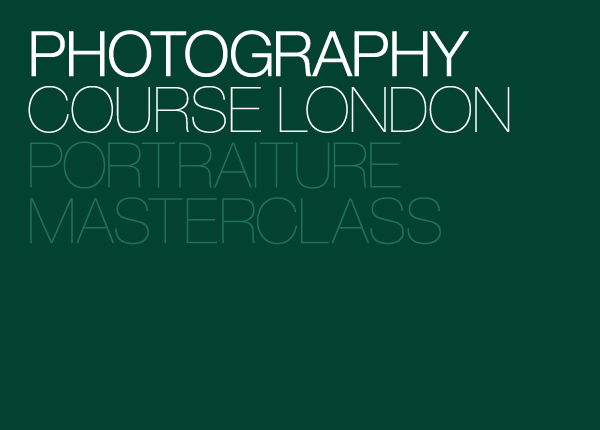 'The Portraiture Masterclass course as well and that was equally brilliant. Lot's of fun and a lot of new skills and tricks learnt. As always, PCL is fun, informative and great value for money.'
★★★★ Ben Logan
'Masterclass in portraiture is one of the best courses I have ever been on – it was jam packed with interesting info and useful technical tips all interweaved as we went along – the tutor referring to his own experience which was vast… The teaching was straightforward and made complete sense, she was patient and kept us stimulated throughout.'
★★★★★ Holly Revell
'I had a very interesting day at the Portraiture Masterclass. A very thoughtful and well put together programme - much food for thought! Many Thanks!'
★★★★★ Nina Large
'I attended this full day class recently with tutor Bill Ling who is an affable and easy going chap who has an extensive portfolio of top quality work and as you would expect a comprehensive knowledge of his subject matter. His flexible and laid back educating style was very good. He had a plethora of useful tips (both on a practical and technical level and he offered much encouragement to all throughout the day.'
★★★★ Ed Oliver