Photoshop for Graphic Design
Day course | 1 day | 10.30 - 17.00 | 8 places | £179
Day course | 2 weeks* | 10.30 - 13.30 | 8 places | £179

Please
email us
if you would like to register your interest for future dates, or if you would like to be added to a waiting list for a full course.
Course description
This course will offer a detailed overview of the tools that every Graphic Designer needs for a client pitch, or to be added to a design portfolio.
Step by step, you will cover the whole design process, from choosing the correct settings and resolution, to producing final output files.
Starting with a full Photoshop introduction from a graphic design perspective, participants will gain an understanding of the main differences when working for print and web, working with different formats and resolutions, and avoiding common mistakes through good file structuring.
Particular focus will be on creating a design following a detailed brief. This will include working with a logo, combining type and textures and blending all elements into a great layout.
You will learn how to master key tools such as adjustment layers, layer masks and blending modes, which will improve your workflow and allow you to produce a design of industry standard quality.
The end of the day will be even more exciting when you will learn how to bring your design to life, into a billboard mock-up, web banner, packaging design or a poster.
For further information or to book over the phone, please call us at the office on 020 7729 1936.
Course Content
Software overview from a designer's point of view
Working with type
Vectors and Raster images / Resolution
Formats overview: PSD, TIFF, JPEG, PNG, GIF, EPS, PDF
Layers, Channels
Hue / Saturation, Levels, Curves, Brightness / Contrast
Image size, Canvas size, Image rotation, Cropping images
History
Layer properties and Blending options
Rulers and Guides
Resize and resample an image
Groups and Linked layers
Smart layers
Smart filters vs Adjustment layers
Layer Mask vs Clipping Mask
Importing vector shapes: Smart objects, Pixels, Path, Shape Layers
Working with Paths: Tracing shapes, Selection from paths, Masking
Placing vector shapes and Warping vector layers
RGB vs CMYK: conversion, color modes
Adding crop marks and bleeds
Exporting TIFF or EPS files
Exporting high quality PDF
Requirements: Knowledge of the basics of Photoshop. Laptop with Adobe Photoshop and Bridge installed (version CC / CS6 / CS5 / CS4). If you are a complete beginner, please have a look at our Photoshop Foundation or One to One tuition to bring you up to the required level.
Don't have your own laptop?
If you don't have your own laptop then there's no need to worry. You can hire one of our Mac laptops for £25 per day. Send us an email for more details - info@photographycourselondon.com
Please note our classroom is on the first floor with no lift. If you are less-abled or have any concerns please contact the office.
All our courses are available as personalised gift certificates. You can choose from an open dated voucher or ask for a specific value to be used towards a course or one to one tuition.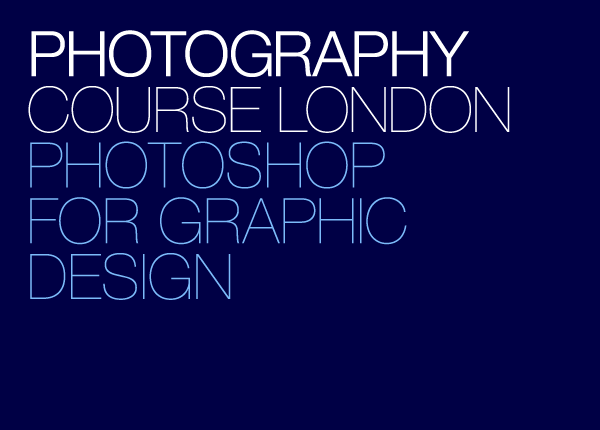 Read more reviews
'I completed the Photoshop for Graphic Design and the Retouching for Fashion and Beauty course with tutor Mikael Eliasson. Both were brilliant. I work for a magazine so I am very familiar with Photoshop but I've picked up bad habits over the years so I found the courses most useful for learning how to work as efficiently as possible..'
★★★★★ Carolyn Jones
'..great one-day basic course going through the most useful tools - great teaching in a low key and supportive way with demonstrations and exercises and plenty of attention for questions and getting stuck.'
★★★★★ Frankie Mcallister