Live Online Photoshop Foundation – Level 1
Day course | 1 day | 10.30 - 16.30 | 10 places | £159
Course date
Price
Tutor
Book
Call the office for upcoming dates
I would like to buy this as a gift
Buy Now
Call the office for upcoming dates
Please
email us
if you would like to register your interest for future dates, or if you would like to be added to a waiting list for a full course.
Course description
This course is delivered online through a Zoom meeting. Photoshop Foundation - Level 1 is a course aimed at beginners and will deliver a comprehensive introduction to the image editing program. This course will teach you the fundamentals of the Photoshop Workflow, the RAW converter (ACR) and making Adjustment Layers.
Learn to improve the visual quality of your image by making fundamental edits such as improving the tonal range, adjusting the brightness, contrast, hue, saturation and using a variety of tools and adjustments.
You will also learn the basics of cloning to remove unwanted elements in an image.
This course focuses on image editing and leads onto our Photoshop Foundation - Level 2 course. If you already know the basics, consider starting with Level 2.
For further information or to book over the phone, please call us at the office on 020 7729 1936.
Course Content
Become familiar with the program
RAW and Adobe Camera Raw (ACR)
Brightness & Contrast
Colour Corrections
RGB and the 256 brightness levels
Adjustment Layers
Levels
Curves
Hue / Saturation
Image Rotation
Crop Tool
Basic Retouching
Healing Brush Tool
Clone Stamp Tool
Adding a border
Canvas size
Image Size and Pixel Dimensions
Saving Files & File Formats & their uses
File Compression
File Size
History
History Brush
Selections
Black & White Conversions
Requirements: Laptop with Adobe Photoshop installed (version CC / CS6 / CS5 / CS4)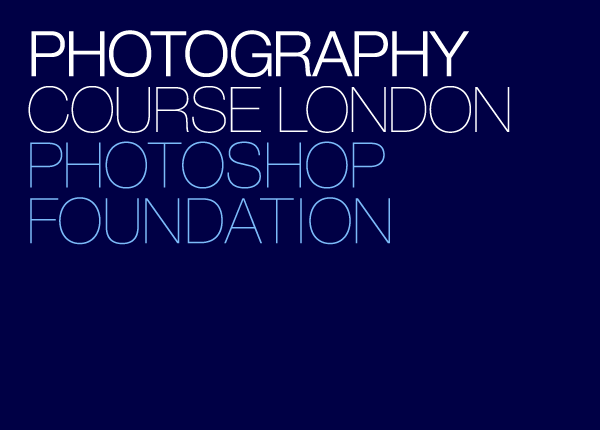 Read more reviews
'I really enjoyed the Photoshop Foundation. The studio was lovely, the class size was small and it was a good combination of teaching and hands-on, practical tasks. I never thought I'd be able to produce images like that so quickly and I've already utilised the skills in my job. I'm extremely tempted to book for Level 2 and would recommend Level 1 for everyone.'
★★★★★ Donna Marie Howard
'Mikael was a great tutor, and both the content and delivery were fantastic – well-paced, thorough and with plenty of opportunity to try things out and to ask questions at every stage. I'll definitely be back for part 2'
★★★★★ Cathy Pyle
'I took the Photoshop Foundation Level 1 and have really enjoyed it. It was a phenomenal introductory into Photoshop for me as a beginner. I hope to be able to take with you some other courses in the near future.'
★★★★★ Max Blau
'Easy booking, great having reminder emails and easy instructions leading up to the course, course was very personal, friendly instructor and overall brilliantly run!'
★★★★★ Tom Pointer