Lightroom Foundation
Day course | 1 day | 10.30 - 17.30 | 8 places | £179
Evening course | 3 weeks | 18.30 - 21.30 | 8 places | £239
Please
email us
if you would like to register your interest for future dates, or if you would like to be added to a waiting list for a full course.
Course description
Adobe Lightroom Classic CC (formally known as Lightroom CC (confusing isn't it?!)) is becoming more and more popular with photographers and is increasingly being seen as the main retouching program. Lightroom goes hand in hand with Photoshop and together sets the industry standard of image editing.
The software allows you to sort, rename, edit, tag, as well as make exposure and other batch image adjustments, non-destructively.

This course will take you from the setting up of this affordable piece of software, looking at importing your images, to editing and organising them. The Develop module is where you can correct and process RAW and JPEG files, as well as apply a range of effects, all covered in detail.

The course will also look at how images can be exported directly from Lightroom to websites, Facebook, used in album design or made into prints.
For further information or to book over the phone, please call us at the office on 020 7729 1936.
Course Content
:
Library Module
Import / Export
Creating metadata presets
Captions and keywords
Renaming files
Organising in collections and smart collections
Editing using flags, filters and ratings
Develop Module
Histogram
Tone adjustments, corrections for under / over exposure
White balance & adjustment
Contrast & clarity, vibrance and saturation
Using tone curves
HSL / Colour / B&W
Sharpening
Noise reduction
Lens corrections
Effects
Virtual copies
Camera calibration
Cropping and straightening, aspect ratios
Spot removal and Localised adjustments
Graduated filters and the adjustment brush
Linking Lightroom with Photoshop
Output
Export
File formats and their usages
Size and resolution
Overview of Map, Book, Slideshow, Print and Web Modules
Requirements: We recommend a Laptop with Lightroom Classic CC installed. Lr4, Lr5 or Lr6 also suitable.
Don't have your own laptop?
If you don't have your own laptop then there's no need to worry. You can hire one of our Mac laptops for £25 per day. Send us an email for more details - info@photographycourselondon.com
Please note our classroom is on the first floor with no lift. If you are less-abled or have any concerns please contact the office.
Can't find the date you're looking for? - One to One
We also provide One to One tuition in Lightroom.
The content is decided by you and delivered at a pace to suit your level and prior knowledge.
Book some One to One tuition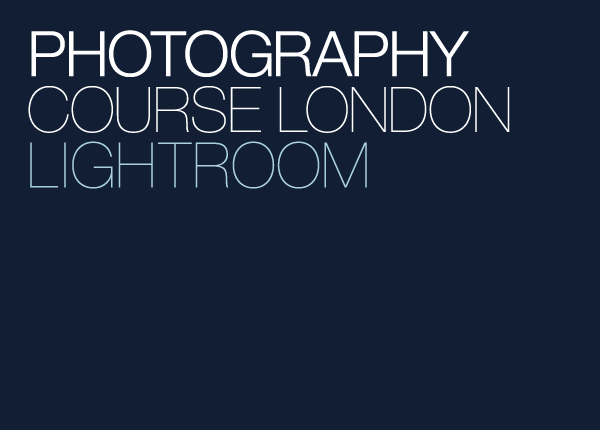 Read more reviews
'The tutor was very knowledgeable about Adobe Lightroom and showed us the main features of the program in an approachable way. This course will get you going with the software and show you its scope!'
★★★★★ Guy Thompson
'The tutor was very good at explaining things and I felt that I learnt a lot. The handouts at the end of the course were very helpful. I would seriously consider doing another course from their schedule..'
★★★★★ Raymond Yau