Intense Foundation of Digital Photography – Level 2
Day course | 1 day | 10.30 – 16.30 | 10 places | £179
See dates for our Level 2 evening courses here -
DSLR Evening
Please
email us
if you would like to register your interest for future dates, or if you would like to be added to a waiting list for a full course.
Course description
Intense Foundation of Digital Photography – Level 2 is a logic follow on from our Level 1 course. It is aimed at those who already know the basics of digital photography, know how their camera works and who want to step it up a level.
The course is set in a relaxed and professional classroom environment and participants are taught theory which is backed up by a significant location based practical session in the afternoon.
Participants will learn a wide range of topics including exposure in more depth, histograms, maximizing the capability of the lens and utilizing white balance. Image processing and the best options for post production will also be discussed and participants are encouraged to bring in an image for discussion.
For further information or to book over the phone, please call us at the office on 020 7729 1936.
Course Content:
Exposure in depth
Calculating exposure in Stops
Histograms and Tonal Range
Understanding and recognising correct exposure using Histograms
Metering modes
Bracketing
HDR
Lenses
Focal length
Prime vs zoom lenses
Lens impact on Depth of Field
Angle of View and perspective
Filters
Custom White Balance
Colour temperature
Calibrating and profiling (camera, monitor, printers)
RAW vs Jpeg
Bit Depth
Sensor sizes
Noise
Manual Focus vs Auto Focus
Incident and reflective light metering
How the digital image is constructed and how it differs from film
Composition – utilising creative and technical knowledge
Flash – main source of light and fill in
Reflectors
Lens flare
Discussing the purpose of Photoshop and post-production
Requirements: Digital SLR Camera or Mirrorless and prior knowledge equivalent to the Level 1 version of this course.
Don't have your own DSLR camera?
If you don't have your own Digital camera then there's no need to worry. You can hire one of ours for £15 per day. Send us an email for more details - info@photographycourselondon.com
Please note our classroom is on the first floor with no lift. If you are less-abled or have any concerns please contact the office.
Can't find the date you're looking for? - One to One
We also provide One to One tuition in DSLR Photography.
The content is decided by you and delivered at a pace to suit your level and prior knowledge.
Book some One to One tuition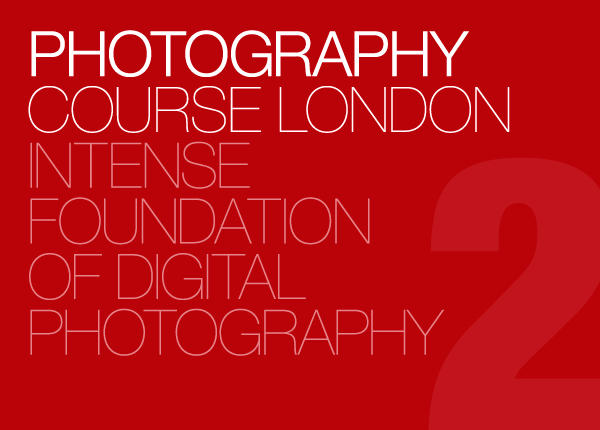 Read more reviews
'I recommend the course to everyone who wishes to master their knowledge of DSLR. The atmosphere is informal and the group is small so you have the opportunity to ask questions and discuss topics, which is great. The course is very well designed and structured and covers all you need in order to produce great quality pictures.'
★★★★★ Nadezhda Vasileva
'Did both Level 1 and Level 2 foundation and thoroughly enjoyed both, despite having a reasonable understanding going into it. Liane was a great teacher, drawing you into her world and helping you make sense of it while also having fun. Looking forward to experimenting and attending one of the more advanced courses soon.'
★★★★★ Aram Balakjian
'This is a great course for anybody wishing to break out of the auto focus function and have complete control of their digital camera. The course is conducted in such a relaxed and friendly environment. I would definitely recommend it to anyone wishing to become a better photographer.'
★★★★★ Damien Abbott
'I took the Level 1 course with Liane Harris this week and I loved it! She was so enthusiastic and fun! The group was also very nice and small, so they have time for everyone. I would definitely recommend!'
★★★★★ Selina Harris