DSLR Video
Day course | 1 day | 10.30 - 17.00 | 10 places | £179

Please
email us
if you would like to register your interest for future dates, or if you would like to be added to a waiting list for a full course.
Course Description
This one day or three evening DSLR Video course is aimed at complete beginners who own a DSLR Camera and want to maximise the video capabilities of the camera. Participants are not required to have any prior knowledge of photography.
The course is set in a classroom environment and participants are taught theory, supported by creative practical exercises both inside and outdoors.
Each participant will learn how to fully operate their Video DSLR, the various shooting modes, the photographic principles behind creating video and will be introduced to the basic principles of videography.
Participants will be provided with a course handout and are also invited to bring along a dslr film clip for discussion.
For further information or to book over the phone, please call us at the office on 020 7729 1936.
Course Content
Understanding the camera
Setting up the camera for video
Camera buttons / functions
Menus
Manual exposure
Aperture
Shutter speed
Light meter
ISO
Shooting Techniques
Depth of field
Pull focus
White balance
Audio
Shooting techniques / handling the camera
Advanced techniques
Framing and composition
Colour profiles
Media Codecs / Video Files
Transferring footage to a computer
Advice on Editing and Softwares
Memory cards (which are best for video)
Publishing video to Youtube / Vimeo
The Shoot
Location shooting
One-on-one assistance
Demonstrating learned skills
Demonstration of pro equipment (shoulder rig / follow focus)
Requirements: Digital SLR Camera with video capabilities, spare battery, minimum 8GB memory card.
Don't have your own DSLR camera?
If you don't have your own Digital SLR camera then there's no need to worry. You can hire one of ours for £15 per day. Send us an email for more details - info@photographycourselondon.com
Please note our classroom is on the first floor with no lift. If you are less-abled or have any concerns please contact the office.
Tutor Biographies
Nigel is a film-maker and visual communications designer. He works primarily with the London Borough of Enfield on community and educational projects. He has worked on films for various organisations including AgeUK and Enfield Football Club.
Can't find the date you're looking for? - One to One
We also provide One to One tuition in DSLR Video.
The content is decided by you and delivered at a pace to suit your level and prior knowledge.
Book some One to One tuition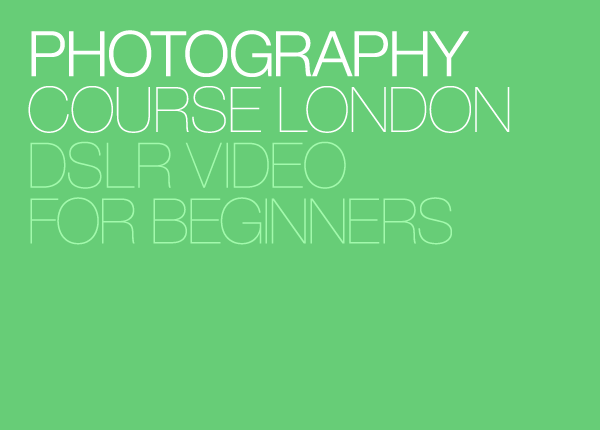 Read more reviews
'I was really pleased, I came away from the day with all the fundamental tools to inspire me to use my camera properly and get off the auto mode. Our tutor was fabulous- enthusiastic, patient, explained everything really well and made the day fun. Highly recommended to anyone wanting to move up a gear in using your camera and being more creative behind the lens.'
★★★★★ Liz Campbell
'Really great course which teaches you everything you need to know about your DSLR camera and how to get the most out of it. I went there because I use photography for work, but after the course, I really wanted to take up photography as a hobby, it was just so inspiring!'
★★★★★ Anne Nordheim
'Great course, I really enjoyed it and came away with a good understanding of the basics and a strong desire to get out and take some pictures! Liane was a very enthusiastic and friendly tutor and created a great atmosphere amongst the group.'
★★★★★ Simon Waterhouse
'I took the intensive Level 1 intro to DSLR photography on Saturday and it was well worth it. Liane was an excellent, engaging, animated teacher.'
★★★★★ Bob Hanson