Introduction to the Darkroom
Day workshop | 1 day | 10.30 - 17.30 | 8 places | £199
Please
email us
if you would like to register your interest for future dates, or if you would like to be added to a waiting list for a full course.
Materials are included in the price
Course Description
Introduction to the Darkroom is designed for newcomers to analogue photography who wish to learn basic darkroom techniques, including black & white film development, making contact sheets and printing with an enlarger. Previous darkroom experience is not necessary, and a basic understanding of exposure, although useful, is not essential.
You are also welcome to bring along any exposed B&W films (or negatives) of your own, whether 35mm, 120 or 5x4 format. You will to be able to process and print from them on the day if you choose - paper and chemicals are supplied - and you may take prints home with you.
Intro to the Darkroom is a practical, hands-on, one-day course delivered in a fully-equipped darkroom just minutes from our Shoreditch HQ.
For further information or to book over the phone, please call us at the office on 020 7729 1936.
Course Content
Film types and sizes
ASA/ISO
Film camera functions
Metering
Loading and unloading film
Darkroom chemicals
Film development , washing and fixing
Making contact prints
Printing with enlargers
Dodging and burning
Multigrade filters
Drying and mounting prints
Care of negatives
Location: Holborn Studios Darkroom
This course is delivered from a brand new darkroom located in the iconic Holborn Studios, just a stone's throw from our premises in Shoreditch. Holborn Studios has been established for over 30 years, and has seen uncountable famous photographers coming through it's doors, including the likes of David Bailey, Terry O'Neil, Annie Leibovitz and Nick Knight.
Visit their website here - www.holbornstudios.com
Can't find the date you're looking for? - One to One
We also provide One to One tuition in Analogue and Darkroom.
The content is decided by you and delivered at a pace to suit your level and prior knowledge.
Book some One to One tuition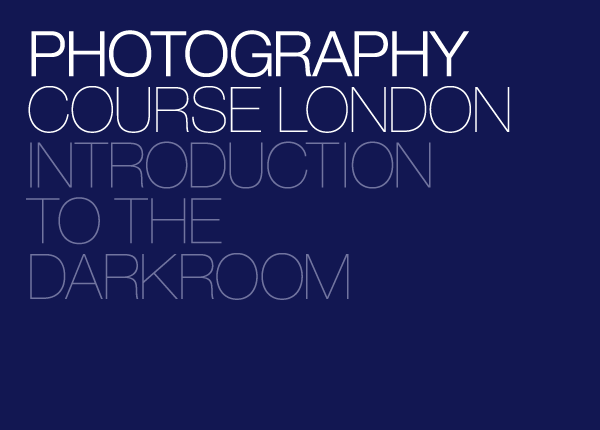 Read more reviews
'I attended the Introduction to the Darkroom course with Bill Ling. He was a top boy! We had a good amount of time to experiment and the session didn't get caught up in chemical jargon. Practical. Engaging. A good intro.'
★★★★★ Team Kelham
'I really enjoyed the course. It was a great way to learn about the process of developing. I think the tutor is a genius! This course for me was about understanding the developing process of black and white and for that knowledge to inform my thinking process behind the camera and enable me to take better pictures.'
★★★★ Daniel Willis