One to One Web Design tuition
Learn everything you need to know to promote yourself and your work on the web. Create and manage your own site with WordPress, market using social media, optimise your search visibility, sell your work in your very own online shop or build a bespoke portfolio that really stands out. We can show you how to do all of this, and more.
Create a WordPress website
Installing WordPress on hosted Server
Configuring Server using cPanel for email accounts and other services
Content creation with posts, pages and navigation
Adding photo galleries to your website
Adding meta data to your content so it is easily searchable in search engines
Creating RSS and xml feeds
Add videos and audio to your site (optional - for those working with this media)
Add google analytics code to track the visitors to your sites
Suggested topics
Planning & design
Wireframes & sitemaps
CSS
HTML
Plug-ins & widgets
Logo design
Templates and Template code
e-Commerce
Graphics
Optimisation
File formats
Using Photoshop & Fireworks
Social Media & Marketing
Twitter
Facebook
Tumblr
Flickr
Email marketing
Selling your images
Hosting & file management
FTP
Buying domains & choosing a hosting package
Dreamweaver
Cpanel
MySql Databases
Search Engine Optimisation (SEO)
Strategies and tools to make your site more visible in search engine results
Book a Session
One to Two tuition is charged at 50% extra
We can also send a tutor to you. Cost is based on your location. Contact the office for a quote info@photographycourselondon.com
All our courses are available as personalised gift certificates. You can choose from an open dated voucher or ask for a specific value to be used towards a course or one to one tuition.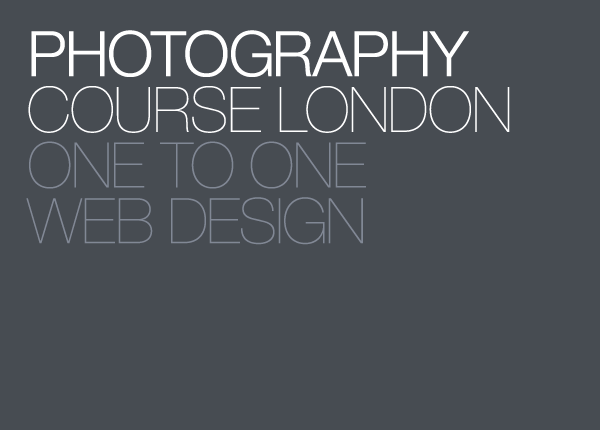 'Great course, I really enjoyed it and came away with a good understanding of the basics and a strong desire to get out and take some pictures! Liane was a very enthusiastic and friendly tutor and created a great atmosphere amongst the group.'
★★★★★ Simon Waterhouse
'I took the intensive Level 1 intro to DSLR photography on Saturday and it was well worth it. Liane was an excellent, engaging, animated teacher.'
★★★★★ Bob Hanson
'I was really pleased, I came away from the day with all the fundamental tools to inspire me to use my camera properly and get off the auto mode. Our tutor was fabulous- enthusiastic, patient, explained everything really well and made the day fun. Highly recommended to anyone wanting to move up a gear in using your camera and being more creative behind the lens.'
★★★★★ Liz Campbell
'Really great course which teaches you everything you need to know about your DSLR camera and how to get the most out of it. I went there because I use photography for work, but after the course, I really wanted to take up photography as a hobby, it was just so inspiring!'
★★★★★ Anne Nordheim