Digital SLR One to One Tuition
Our highly experienced tutors can teach you how to fully control your Digital SLR, to getting the most from your equipment and developing techniques for a range of exciting genres.
Tuition is delivered through a combination of classroom based theory and practical exercises, and we will pair you with the most suitable tutor who will tailor the session to your exact needs.
Suggested topics
Buttons, functions, menus, settings etc.
Operating the camera manually & in semi – automatic modes
Optimising the camera settings
Light meter and metering modes
How the digital image is constructed and how it differs from film
The sensor, sensor sizes and covering area
Histograms
Practical exercise with histograms to find the correct exposure
How the aperture and shutter speed affect the image
Depth of field
In – depth histograms
Practical exercise exploring the aperture & Shutter speed
How to operate your lens, and how avoid distortions
Focal length, Angle of View [A.O.V.] & Perspective
Lens impact on Depth of Field [D.O.F.]
Sensor size and Lens Magnification Factor
White Balance [W.B.] and Colour theory
Advantages of shooting RAW
Post production using Lightroom and Photoshop
Book a Session
One to Two tuition is charged at 50% extra
We can also send a tutor to you. Cost is based on your location. Contact the office for a quote info@photographycourselondon.com
Don't have your own DSLR camera?
If you don't have your own Digital SLR camera then there's no need to worry. You can hire one of ours for £15 per day, or a Pro Series DSLR - price upon request. Send us an email for more details info@photographycourselondon.com
All our one to one tuition are available as personalised gift certificates. You can either specify a given amount of hours or a specified value.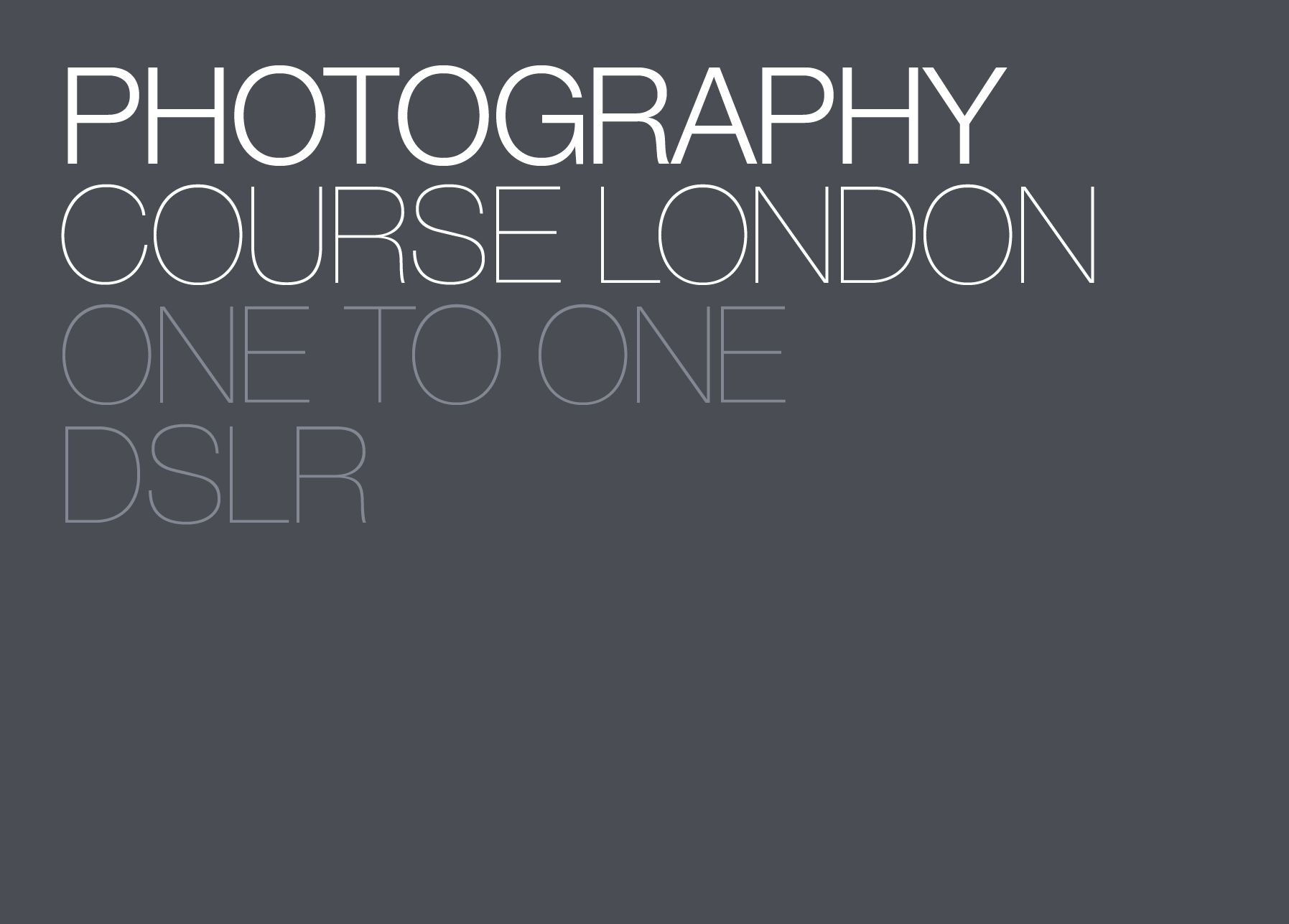 Read more reviews
'Such a cool environment with very polite and knowledgable people. Highly recommended – the environment and the people scream quality.'
★★★★★ Angelos Nastos Megas
'My photos are now being filed in a way more manageable manner and I now feel more confident with the mechanics of the camera and can spend more time composing an image that I want to see rather than worry about the settings. 4 Hours passed by very quickly and I feel that I learnt a lot!'
★★★★ Jetje Japhet
'I recently received one to one tuition from Mikael Eliasson which I enjoyed very much. Mikael gave me some excellent advice on how I might proceed should I decide to take the step from being keen amateur to professional photographer, inspiring me to explore further the various techniques.'
★★★★★ Michael White
'I opted for a 4hr 1 to 1 session in advance of a couple of weddings I'll be attending as a guest. The tutor was friendly and welcoming; and the overall studio was a great environment to learn it. I left feeling inspired!'
★★★★★ James Brewer